It is no secret that the digitalization process has begun and it is not about to stop. As a result, many activities that companies originally performed in person, such as distributing flyers and advertising their products, have now gone digital.
However, although access to the World Wide Web allowed them to exponentially increase the pool of potential customers, it also brought many other challenges. For starters, companies are now faced extremely fierce competition on two different fronts at the same time: some competitors offered higher quality and unique products, while others offered the same product at a lower price.
So, faced by the impossibility of beating the competition with the classic tactics, they had to learn how to market a product online and how to make it stand out from all the other alternatives on the market.
In this article, we will talk about the top 10 marketing careers in 2023, based on demand and average annual salary, according to the Bureau of Labor Statistics and GlassDoor.
What Is Marketing?
Marketing is the set of actions a marketer takes to promote a product and communicate its value and attributes to potential customers. Ultimately, the marketer's job is to sell a product, but before he can take that step, many intermediate steps must be taken.
For example, many marketers focus on the initial product development process, developing the idea and branding for the product and ensuring that there is sufficient demand to build a sustainable business.
On the other hand, many other marketers focus on the final steps, such as making sure the website for purchasing the product is easy to find, navigate and secure.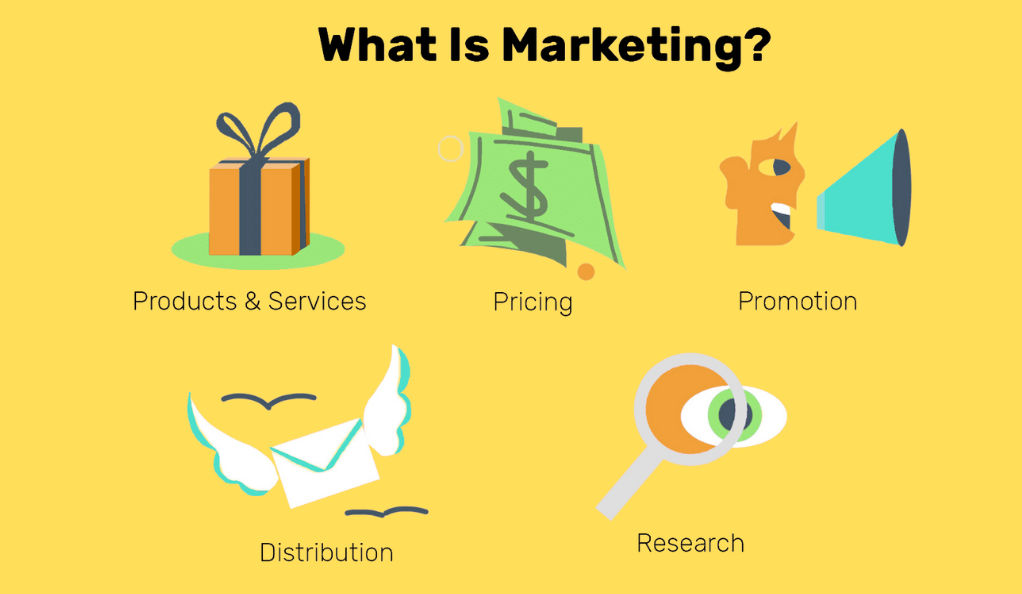 What are the Skills Needed To Become a Successful Marketer?
Creativity
Since marketing is a series of activities aimed at communicating the value and beauty of a product to potential customers, it is extremely important to be creative and do so in an innovative and fun way.
Lately, this has become even more important, especially if we think about the advertisements on YouTube or social media. This is because most of them are similar, flat and almost indistinguishable. Therefore, it is essential that you can convey the features and qualities of a product in a creative way.
Passion For Statistics and Numbers
Statistics and numbers are an important part of marketing because customer preferences are constantly changing and are difficult to determine without statistical tools. Therefore, marketers are always analyzing the demographics of potential customers to ensure that the means and platforms they use to promote the product are getting the best results.
Communication Skills
Analyzing the numbers is only a starting point. Ultimately, it's the marketer's job to communicate the value. So once you have found the right demographic to target, it's critical to have the right communication skills to deliver the results.
In addition, it is important that you not only have excellent communication skills, but that you can adapt them to the medium that will be used to promote the product. For example, the style and tone of a website is vastly different from that of a post on social media, so mastering all of these communication styles is a must.
Understanding the Internet and Digital Platforms
Finally, given the evolution of the business world, it is extremely important for a marketer to understand how the Internet and the digital platform work. Nowadays, almost every single business is online, so it is easier and faster to use digital platforms to drive customers to the company's website.
While it may be difficult for an entry-level marketer to master all aspects of online advertising, it's definitely a skill you need as you advance in your career path.
Which are the best 10 Marketing Jobs in 2023?
Although marketing is a relatively new phenomenon, it is such a fundamental part of business operations that it has quickly been divided into many subcategories for better control and end product.
In this article, we present the top 10 marketing jobs in 2023, based on demand and average salary, ranging from product development to after-sale services marketing.
1. Marketing Research Analyst
Regardless of the type of product a company is trying to market, the first step is always to perform the necessary statistical and demographic analysis to ensure that the product has sufficient demand to be successful in the marketplace.
Furthermore, once the idea is developed, it is the market research analysts' job to find the best platform to market the product. Therefore, marketing research analysts are statistical experts who are able to extract valuable insights from customer and market research to help the company sell the product.
In the United States, marketing research analysts earn an average salary of $70,418 per year, but it can exceed $100,000 after a few years of experience.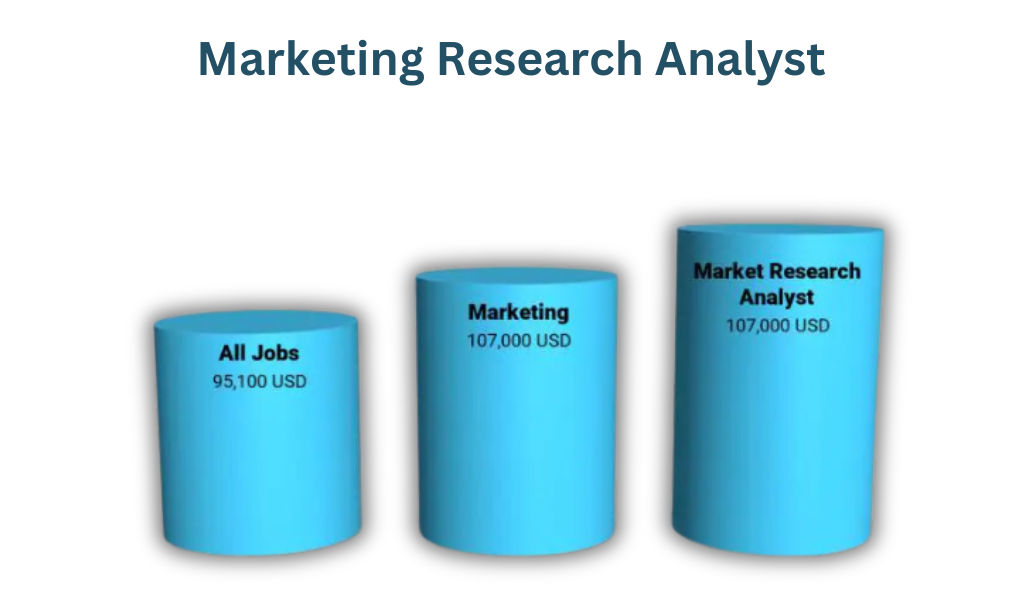 2. Search Engine Marketing (SEM) Strategist
Search Engine Marketing strategists are the online advertising experts responsible for promotional campaigns, however, unlike SEO strategists, they are responsible for paid website traffic. SEM experts pay a lot of attentio to statistics, and among the most important parameters they pay attention to are cost per click (CPC) and click-through rate (CTR), two valuable metrics that describe the progress of the advertising campaign.
In addition, SEM strategists must not only master online advertising, but also be able to forecast revenues and expenses, create a plan for the marketing campaign, and ultimately be responsible for staying within budget.
Because of the knowledge and skills required for this job, SEM strategists earn an average annual salary of $109,502, but that rises to $163,549 if a SEM strategist has more than 15 years of experience.
3. Search Engine Optimization (SEO) Strategist
Search engine optimization strategists, on the other hand, are tasked with driving as much organic (non-paid) traffic to the site as possible and ensuring that the site is easy for that traffic to navigate. Therefore, in addition to keyword research, it is also important to be familiar with the practices of IT to make the website run smoother and faster to ensure a better customer experience.
Even though SEO strategists do not work with paid traffic, they work hand in hand with SEM marketers to lower the cost of customer acquisition. They complement each other and ensure that all relevant customer segments are covered, even if they cannot be reached by a simple search engine results page optimization strategy.
According to GlassDoor, an SEO strategist earns an average of $96,831 per year, but the average salary increases to $149,480.
4. Social Media Manager
Social media managers are the experts at building a product or company page on various social media, scheduling content and ensuring constant engagement with a community. The marketing role of a social media manager stems from the ability to coordinate their work with the company's need to sell and promote the product, so metrics and statistics are extremely important in this case as well.
In addition, social media managers are often tasked with building a community of customers who are about to buy the product or who have already bought it. By keeping customers interested, social media managers can bring them back to the buy page again and again.
The average annual salary for a social media manager in the U.S. is $57,146, but increases to nearly $100,000 with 15+ years of experience.
5. Social Media Marketer
Social media marketers are the equivalent of SEM strategists, but for social media. Their job is to create advertising campaigns on the most popular social media outlets, such as Facebook, Instagram and LinkedIn, to drive customers to the company's website.
Although social media marketers do not need all the skills associated with search engine advertising, they do need to master social media content, because the most successful ads are those that blend in with other posts and are not perceived by users as mere marketing tactics.
In the U.S., the average annual salary for a social media marketer is $49,021. However, if they receive a promotion to lead social media marketer, the average salary increases to $92,978/year.
6. Content Marketer
Content marketers are those tasked with creating captivating content for the business. More specifically, content marketers are copywriters who write headlines for social media, blog posts, landing pages and more.
Content marketers usually work in close contact with SEO strategists and social media managers to plan content and develop a marketing strategy.
When it comes to a content marketer's annual salary, it averages around $63,229, with some top-tier positions costing upwards of $150,000 with a mix of experience and successful results.
7. Brand Manager
A brand manager is responsible for building the brand image, including the logo, color palette, packaging, website and social media images, graphics and more. Today, a strong brand is just as important as a strong product, so brand managers often play a critical role.
Some companies are even recognized among thousands of people just by looking at the colors of their logo or product. Having such a strong brand and ultimately benefiting from "brand loyalty" is often the ideal goal of a brand manager.
Since brand image is one of the most valuable features of a company, brand managers play a crucial role in the success of the company. As a result, their average annual salary of $95,705 is significantly higher than other marketing departments. However, the highest- paying companies, including Meta and Google, currently have 2,000 open positions starting at $250,000 per year.
8. Event Marketer
Despite the fact that recently almost every interaction with customers has moved to the Internet, it is still important to have someone in charge of organizing events and special occasions to promote the company. Event marketers are those who are in charge of planning discount promotions, promotional offers, in-person events and other occasions to keep customers loyal and interested in the company.
Although it may not seem important at first glance, event marketing is one of the most profitable forms of marketing because it allows the company to promote its product by selling it, as opposed to paid advertisements that come with significant upfront costs.
The average salary of an event marketer in the U.S. is $56,924 per year, but increases to $86,028 with more than 15 years of experience.
9. Online Community Manager
Another very common career path for a marketer is that of an online community manager, that is, someone responsible for creating and managing a community of very active and close customers of the company. Building a community has become an important part of a business because it has been proven that the people most likely to buy a product are those who have already been customers.
Online community managers work closely with social media managers and event marketers to create an environment that keeps customers interested with valuable information and unique discounts.
Online community manager positions are in high demand, especially among smaller companies trying to build a loyal customer base. In the U.S., the average annual salary is $68,492, but in some better-paying companies it can exceed $110,000.
10. Marketing director
Since there are so many marketing departments in a company, it is necessary to have a person who monitors the harmony between them and the correct implementation of the strategies.
Since there are so many marketing strategies that approach the promotion of a product in different ways, it is necessary to have a marketing director who ensures that no strategy is in stark contrast to the others and that it does not limit its potential outcome.
Because of all the responsibilities that marketing directors have to bear and because of their important role in the company, the average annual salary of a marketing director is $184,991. However, it is important to know that companies like Nvidia and Google currently offer a starting salary of around $446,000 per year.
Conclusion
In recent times, marketing has become a very valuable career field due to the strong demand and the various alternatives available to a marketer. For example, if someone is more interested in design and creating websites, then it might be worthwhile for them to become an SEO strategist, while someone more interested in the monetary aspect might choose SEM or social media marketing.
Regardless of the marketing department a professional chooses, the most important aspect of marketing jobs is the fact that the average annual salary is far above average and in some cases even exceeds $30,000 per month!
So if you are toying with the idea of going into marketing, it might be worth giving it a shot, especially if you are very interested in the field.
Risk Disclaimer
CryptoGlobally aims to offer impartial and trustworthy data on cryptocurrency, finance, trading, and shares. Yet, we can't give financial guidance and encourage individuals to conduct their own studies and thorough checks.