How to calculate tax on Coinspot?
Coinspot provides two ways in which users can import their data into a crypto tax calculator to help with Coinspot tax reports. Import through a CSV file, or an API, alternatively, to sync the transaction history automatically.
How to get your CSV data on Coinspot?
From Coinspot, users can download any CSV file and upload it to a crypto tax calculator. Follow the steps below:
Launch your preferred internet browser and visit the Coinspot website. And find the "Login" button situated in the upper-right corner of the homepage, then input your email address and password to access your Coinspot account. If you have enabled two-factor authentication (2FA), provide the necessary code as well.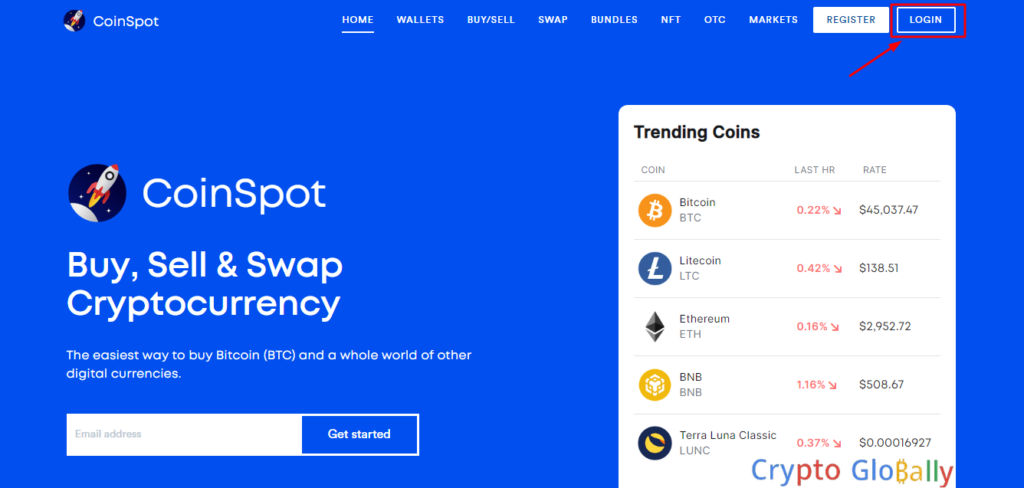 After logging in, you will land on the Coinspot dashboard. Locate the 'my account' icon in the upper-right section of the page, click on the 'my account' icon to reveal a dropdown menu with various options for managing your account.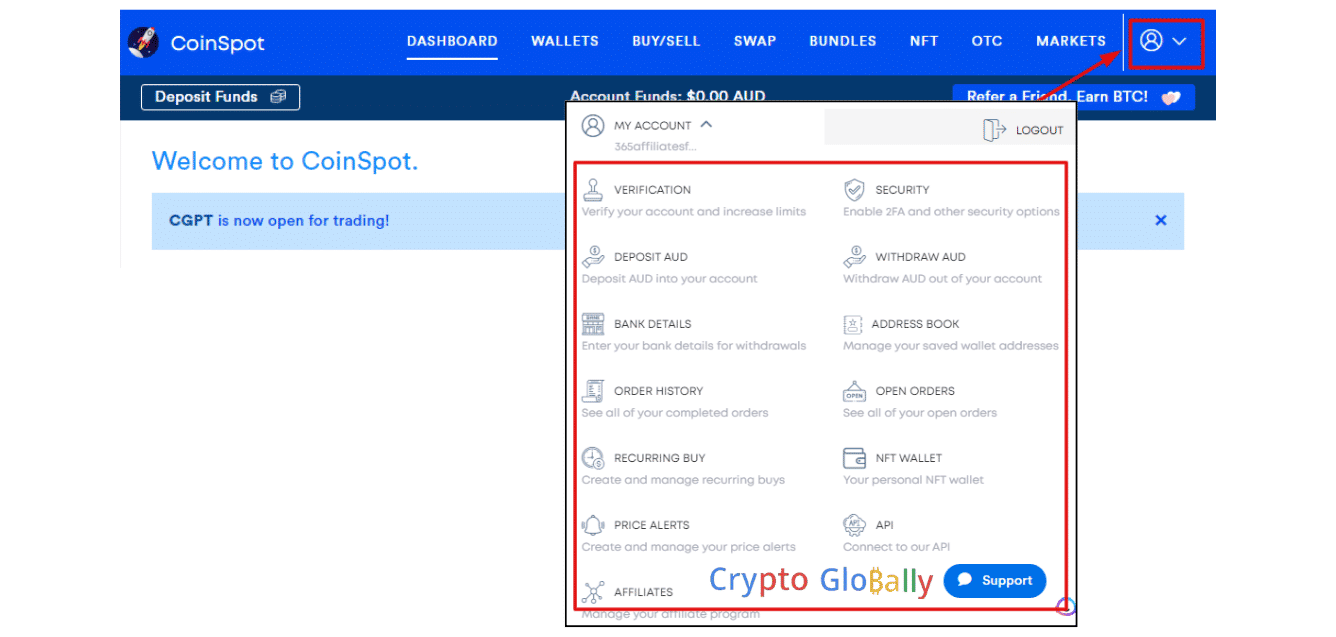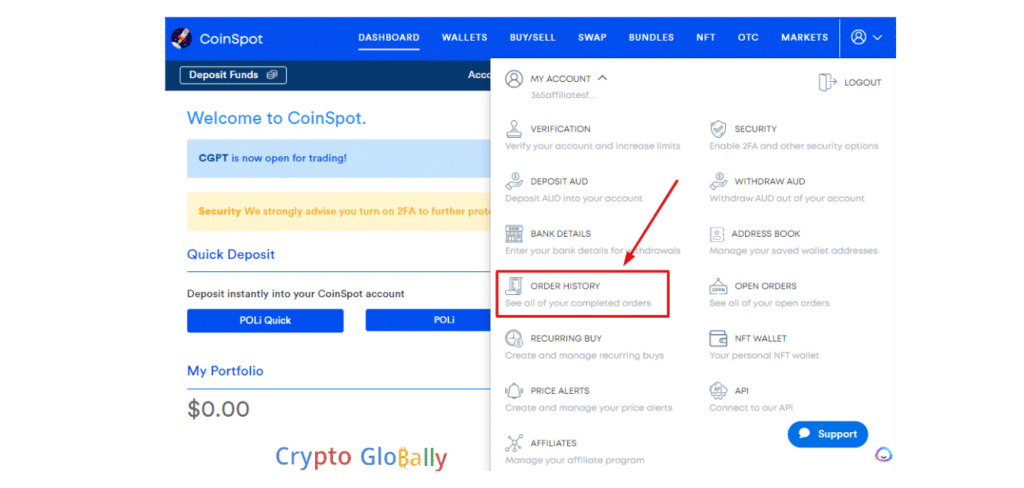 In the dropdown menu, identify and select the 'order history' option, which will take you to a page displaying your transaction history, on this page, you'll find an overview of your completed sell and buy orders, as well as any fund transfers.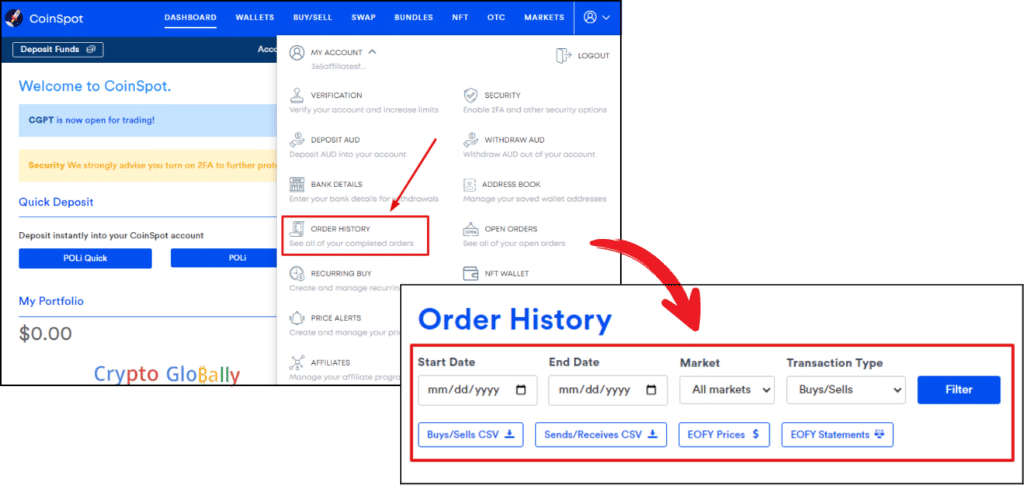 If you've transferred funds to or from your Coinspot account, you can download the receive/send CSV by finding and clicking on the corresponding option on the transaction history page.
Save the receive/send CSV file to a location of your choosing on your computer for future reference or analysis.
With these CSV files, you can now monitor your trading and fund transfer activities, assess your investments, or prepare your tax documentation as necessary.
How to create and use API keys on Coinspot?
Follow these steps to get your API keys and your history:
Log in to your Coinspot account to access and use the API for data import purposes.

*Find the 'my account' icon in the upper-right corner of the platform, and click on it to reveal a dropdown menu. Select the API option from the available choices.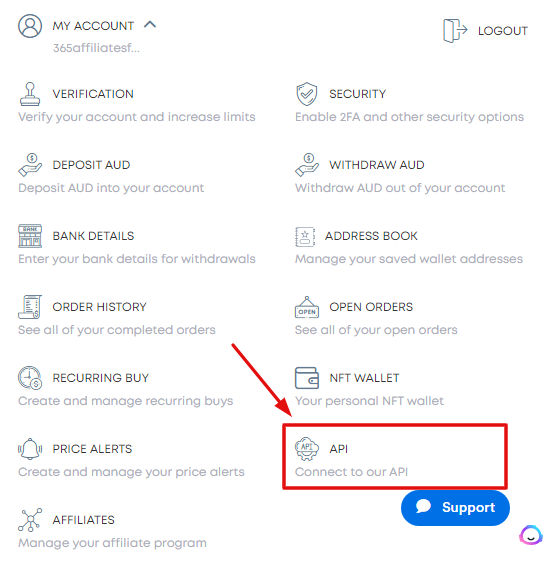 If you haven't enabled Two-Factor Authentication (2FA) yet, you'll need to do so for security purposes. Download a compatible 2FA app and follow the instructions provided by Coinspot.
You need to generate the key and name it.
Once generated, enter your 2FA code to create an API key
A confirmation with a link to finish the key generation procedure will be sent to you in your email.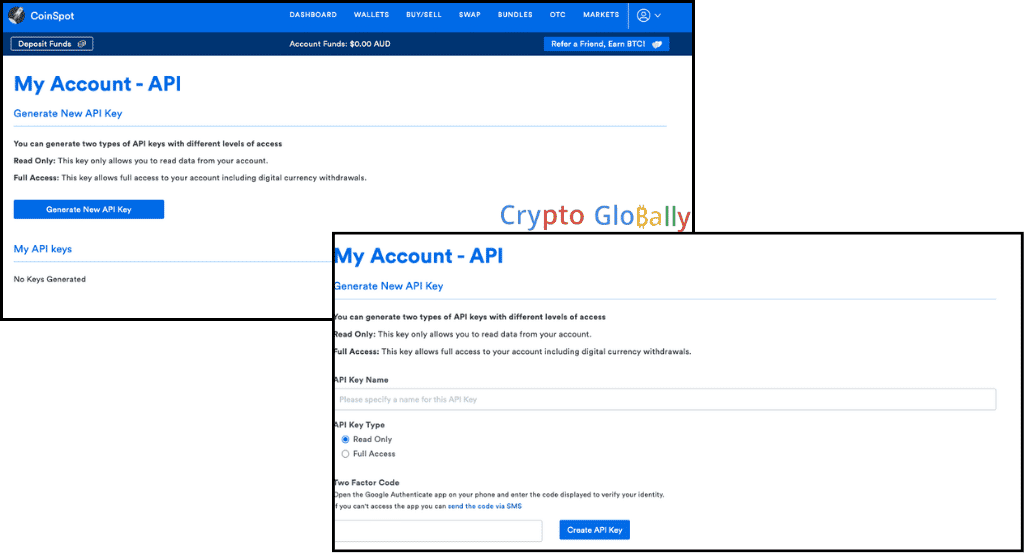 Ensure that the API is set to read-only to protect your account information.
Coinspot fee
Coinspot is a cryptocurrency exchange that provides competitive fee structures for its users. For market orders and Over-The-Counter (OTC) transactions, Coinspot charges a flat rate of 0.1%. However, for market buy and sell orders, swaps, stop orders, and limit orders, the exchange charges a 1% fee.
One of the advantages of using Coinspot is that it does not charge any fees for depositing funds into your account. However, the withdrawal fees will depend on the specific withdrawal method you choose. It's essential to review these fees before initiating any withdrawals to avoid any surprises.
How does Coinspot Tax work?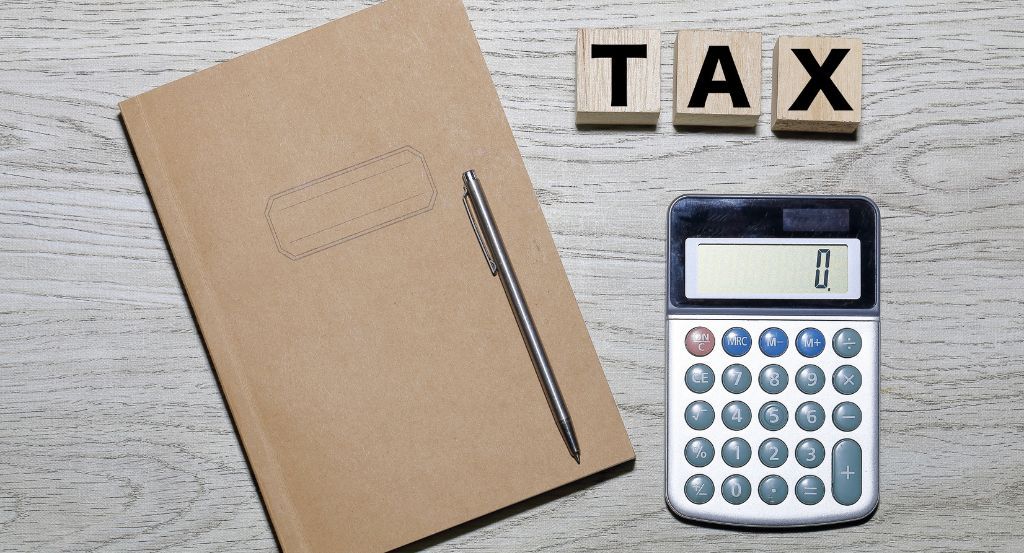 The Australian-based crypto exchange offers a feature on tax reports that ensures that users get the required help in calculating their tax obligations. The obligations have to be related to the investment and trading of cryptocurrencies on Coinspot. Download this tax report in CSV to get a crypto transaction summary that has been carried out on Coinspot within a particular tax year.
Accessing the tax report entails a user signing up for their account on Coinspot and finding their way through the report. You can click on the option tax report and select the year you wish to generate a Coinspot tax report.
The tax report will include a transaction history, asset code and name, transaction time and date, asset quantity, coin base, fees, AUD value, capital, and net capital losses and gains. As much as this platform seeks to help with tax reports, it is not the same as having a professional in tax matters.
Risk Disclaimer
CryptoGlobally aims to offer impartial and trustworthy data on cryptocurrency, finance, trading, and shares. Yet, we can't give financial guidance and encourage individuals to conduct their own studies and thorough checks.