What is Warren Buffett's Net Worth in 2023?
As of 2023, Warren Buffett's net worth is estimated to be $105 billion. Widely recognized as one of the most successful investors in history, Buffett has steadily accumulated his wealth over many years. He serves as the Chairman and CEO of Berkshire Hathaway, a multinational conglomerate holding company headquartered in Omaha, Nebraska, which he built from a struggling textile manufacturing company into a global powerhouse encompassing numerous businesses.
Early Life and Education of Warren Buffett
Warren Edward Buffett was born on August 30, 1930, in Omaha, Nebraska. His father, Howard Buffett, was a stockbroker-turned-Congressman. Buffett's early childhood years were marked by the Great Depression, an era that influenced his frugal habits. As a child, Buffett demonstrated an aptitude for numbers and business, selling newspapers and running a pinball machine business.
Buffett graduated from Woodrow Wilson High School in 1947, but he had little interest in college. However, his father persuaded him to attend the Wharton School at the University of Pennsylvania. After two years, he transferred to the University of Nebraska, where he earned a Bachelor of Science in Business Administration. He later attended Columbia Business School, where he studied under value investing guru Benjamin Graham, shaping his investment philosophy.
Investment Philosophy of Warren Buffett
Warren Buffett follows a value investing strategy that involves buying securities deemed undervalued by fundamental analysis. He seeks out companies with strong underlying businesses, competitive advantages, and managerial competence. Buffett focuses on the long-term growth potential rather than short-term market trends. His quote "Be fearful when others are greedy, and be greedy when others are fearful" encapsulates his contrarian approach to investing.
Personal Life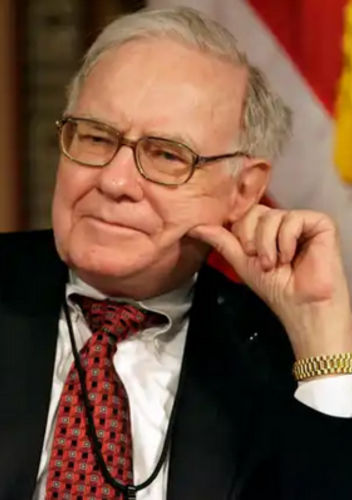 Buffett has always led a relatively modest lifestyle considering his immense wealth. He lives in the same Omaha house he purchased in 1958 for $31,500. He is known for his frugal habits, like driving his own car and eating at McDonald's. Buffett was married to his first wife, Susan Thompson, until her death in 2004. He remarried in 2006 to Astrid Menks. He has three children, Susie, Howard, and Peter.
Political and Public Policy Views
Politically, Buffett is a longtime supporter of the Democratic Party. He advocates for higher taxes on the wealthy and has publicly criticized the American healthcare system, calling it the "tape worm" of the American economy. Buffett is also a vocal supporter of environmental sustainability and has invested significantly in renewable energy sources through Berkshire Hathaway.
Business Career
Buffett began his career as an investment salesman for Buffett-Falk & Co. In 1956, he started his first investment partnership, Buffett Associates Ltd. Later, he took control of Berkshire Hathaway and transformed it from a failing textile manufacturer into a diversified conglomerate. Berkshire Hathaway owns stakes in various major companies, such as Coca-Cola, Apple, and American Express. Buffett's strategy of buying and holding undervalued, profitable companies has consistently yielded substantial returns.
How has Warren Buffett Spent his Wealth?
Despite his immense wealth, Buffett is famously frugal and has committed most of his wealth to philanthropy. In 2006, he pledged to give away 99% of his wealth to charitable causes, primarily through the Bill and Melinda Gates Foundation. The Giving Pledge, co-founded with Bill Gates, encourages billionaires to donate a majority of their wealth to charitable causes. Buffett has donated billions of dollars to charity, with significant contributions to education, healthcare, and efforts to reduce global poverty and inequality.
Did Warren Buffett Have any Crypto Investments? and if so, What are They?
Warren Buffett had not publicly disclosed any investments in cryptocurrencies. Known for his traditional approach to investing, Buffett has expressed skepticism towards cryptocurrencies, labeling Bitcoin as "rat poison squared". However, the Berkshire Hathaway vice chairman, Charlie Munger, has noted the company's willingness to adapt, leaving open the possibility of future investments.
5 Frequently Asked Questions (FAQs)
Why is Warren Buffett called the "Oracle of Omaha"?
Buffett is often referred to as the "Oracle of Omaha" due to his uncanny ability to predict market trends and his remarkable investment successes. The nickname also reflects his roots in Omaha, Nebraska.
What is Warren Buffett's investment strategy?
Buffett follows a value investing strategy. He buys stocks and businesses undervalued by the market but have strong intrinsic value – solid fundamentals, robust earnings power, and competent management.
Does Warren Buffett only invest in stocks?
While Buffett is well-known for investing in stocks, his portfolio also includes bonds, real estate, and private companies. However, he has traditionally avoided speculative assets, including most digital currencies.
What was Warren Buffett's biggest investment mistake?
Buffett has admitted that his biggest investment mistake was buying Berkshire Hathaway, a struggling textile company, in 1964. However, he turned this mistake into an opportunity by transforming it into a successful holding company.
How has Warren Buffett pledged to use his wealth?
Buffett has pledged to donate 99% of his wealth to philanthropic causes, primarily through the Gates Foundation. He co-founded the Giving Pledge, urging billionaires to donate the majority of their wealth to charity.
Summary
Warren Buffett, the legendary investor and philanthropist, has amassed a net worth of $105 billion as of 2023. Known for his value investing philosophy, frugal lifestyle, and generous philanthropy, Buffett is a towering figure in global finance. Despite his skepticism towards cryptocurrencies, Buffett's investment portfolio continues to deliver impressive returns. His life and career underscore the power of long-term investment, prudent management, and dedicated philanthropy in building sustainable wealth.
Risk Disclaimer
CryptoGlobally aims to offer impartial and trustworthy data on cryptocurrency, finance, trading, and shares. Yet, we can't give financial guidance and encourage individuals to conduct their own studies and thorough checks.