What is Kevin O'Leary's Net Worth in 2023?
In 2023, Kevin O'Leary, widely recognized as the relentless "Mr. Wonderful" on ABC's "Shark Tank", boasts an estimated net worth of $450 million. This extensive wealth was amassed through a combination of savvy investments, entrepreneurial exploits, and media presence. In spite of his brash television persona, O'Leary's financial acumen and business foresight have proven invaluable in his wealth accumulation, demonstrating a keen understanding of industry trends and market dynamics.
Business career of Kevin O'Leary
O'Leary's journey to becoming a renowned entrepreneur started with SoftKey Software Products, a company he co-founded in 1986. A pioneer in the educational software market, SoftKey acquired its competitors, including The Learning Company (TLC), which it eventually rebranded as. In 1999, Mattel purchased TLC for $4.2 billion, solidifying O'Leary's status as a successful businessman.
Following his exit from TLC, O'Leary ventured into mutual funds and exchange-traded funds (ETFs). He founded O'Leary Funds and O'Shares ETFs, managing billions in assets and further amplifying his fortune. His shrewd investment strategies, revolving around yield and capital preservation, have resonated with investors globally, establishing him as a trusted figure in finance.
Media
O'Leary's media career took off when he joined "Dragons' Den", a Canadian reality show where entrepreneurs pitch their business ideas to investors or 'dragons.' His straightforward, often harsh feedback earned him both criticism and respect. In 2009, he brought his financial prowess and no-nonsense persona to "Shark Tank", the U.S. equivalent of "Dragons' Den". His presence has since become iconic on the show, elevating his public profile substantially.
Politics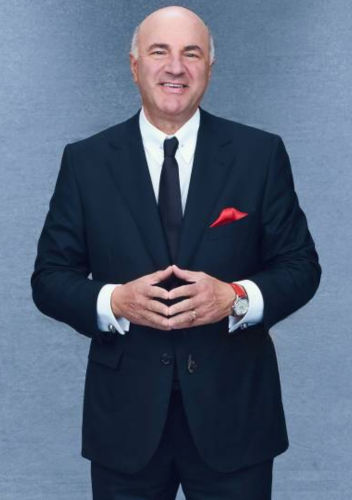 In 2017, O'Leary ventured into Canadian politics, briefly running for the leadership of the Conservative Party. His campaign emphasized fiscal conservatism and efficient governance. However, he withdrew before the final vote, citing language barriers and the inability to win seats in Quebec as primary reasons.
Personal Life
O'Leary, born in Montreal, Quebec, comes from a mixed Irish and Lebanese background. He has two children with his wife Linda. His passion extends beyond business; O'Leary is an avid photographer and wine connoisseur. He launched O'Leary Fine Wines in 2012, further exploring this passion. Despite his ruthless image on TV, he is known for his philanthropic activities, particularly focused on entrepreneurship and education.
Bibliography
O'Leary has authored three books: "Cold Hard Truth: On Business, Money & Life" (2011), "The Cold Hard Truth on Men, Women & Money" (2012), and "Cold Hard Truth on Family, Kids, and Money" (2013). In these books, he shares personal stories and insights on finance, entrepreneurship, and family. The "Cold Hard Truth" series reflects his straightforward approach to life and business, providing readers valuable lessons drawn from his successful career.
How has Kevin O'Leary spent his wealth?
O'Leary's wealth has been allocated in diverse ways. As an investor, he reinvests a significant portion into businesses and opportunities he believes in. He is a major backer of start-ups, particularly through "Shark Tank", where he often invests in promising companies.
Besides investments, O'Leary dedicates a portion of his wealth to philanthropic causes. The O'Leary Financial Group, for instance, supports causes related to entrepreneurship, education, and the environment. He also contributes to various charities and hosts events to raise funds for those in need.
On a personal level, O'Leary has a taste for the finer things. He collects watches and owns a notable wine cellar. Moreover, his passion for photography sees him investing in high-end camera gear and photographic trips.
Did Kevin O'Leary have any crypto investments? And if so, what are they?
In 2021, O'Leary publicly reversed his previous skepticism towards cryptocurrencies, announcing that he would allocate 3% of his portfolio to Bitcoin. He advocated for fully audited, sustainable, and compliant cryptocurrencies. By 2023, his crypto investments have broadened to include Ethereum and several blockchain-based start-ups, although he maintains a cautious and calculated approach to this volatile market.
Frequently Asked Questions
How did Kevin O'Leary become successful?
O'Leary's success is attributed to his astute understanding of markets, keen business acumen, and resilience. His journey began with co-founding SoftKey, which later became TLC and sold to Mattel for billions. He then ventured into finance, founding O'Leary Funds and O'Shares ETFs.
What is Kevin O'Leary's investment strategy?
O'Leary prioritizes companies with strong financials, reliable cash flows, and competent management. He focuses on yield and capital preservation, taking a disciplined and risk-averse approach to investing.
What is "Mr. Wonderful's" real name?
"Mr. Wonderful" is the nickname of Kevin O'Leary, derived from his persona on the television show "Shark Tank".
Why did Kevin O'Leary leave politics?
O'Leary withdrew from the 2017 Conservative Party leadership race citing his lack of French-language proficiency and the challenge of winning seats in Quebec.
What are Kevin O'Leary's views on cryptocurrency?
Initially skeptical, O'Leary became a proponent of cryptocurrencies in 2021. He allocates a portion of his portfolio to Bitcoin and Ethereum, advocating for sustainable and fully compliant crypto investments.
Summary
Kevin O'Leary's $450 million net worth, as of 2023, has been accumulated through his successful business career, media presence, and astute investments, including in the cryptocurrency market. Known for his no-nonsense approach, O'Leary's financial insight and entrepreneurial prowess have made him a prominent figure in the business world. Despite his tough persona, his philanthropic endeavors and personal passions paint a multifaceted picture of the man famously known as "Mr. Wonderful".
Risk Disclaimer
CryptoGlobally aims to offer impartial and trustworthy data on cryptocurrency, finance, trading, and shares. Yet, we can't give financial guidance and encourage individuals to conduct their own studies and thorough checks.