What is Mark Zuckerberg's Net Worth in 2023?
As of 2023, Mark Zuckerberg, co-founder and CEO of Facebook (now known as Meta Platforms Inc.), is estimated to have a net worth of approximately $120 billion, according to Forbes. His wealth primarily originates from his holdings in Meta, where he owns nearly 15% of the stock. This phenomenal net worth places him amongst the wealthiest people globally, rubbing shoulders with tech titans like Elon Musk, Jeff Bezos, and Bill Gates.
Early life and Education
Born on May 14, 1984, in White Plains, New York, Zuckerberg showed an early interest in computers. His father Edward, a dentist, and mother Karen, a psychiatrist, encouraged his love for technology, even hiring a software developer to tutor him privately. Zuckerberg created an instant messaging system at high school, dubbed "ZuckNet," which his father used in his dental office.
After high school, he enrolled at Harvard University to study psychology and computer science. During his sophomore year, Zuckerberg built a program called "CourseMatch," which enabled students to select classes based on the course selections of other users. Following this, he created "Facemash," a website that compared the attractiveness of different students, which was controversial but demonstrated his ability to generate interest and web traffic.
However, it was the development of "The facebook" in 2004, initially a Harvard-only platform, that thrust Zuckerberg into the limelight. The popularity of the site exploded, and Zuckerberg dropped out of Harvard to concentrate on the business full-time, marking the start of a significant chapter in his career.
Career of Mark Zuckerberg
Zuckerberg's career has been synonymous with Facebook (now Meta). From a dormitory in Harvard, Zuckerberg turned the platform into a worldwide social media titan, boasting billions of users. In 2012, Facebook went public, further cementing Zuckerberg's place amongst the tech elite.
Despite controversy and numerous legal battles, Zuckerberg's commitment to his vision remained steadfast. In 2021, Facebook transitioned to Meta Platforms Inc., reflecting the company's broader focus on building the metaverse, a virtual reality space where users can interact in a computer-generated environment. Zuckerberg's ambitious endeavor into this frontier technology demonstrates his commitment to continual innovation, solidifying his reputation as a seminal figure in the tech industry.
Personal Life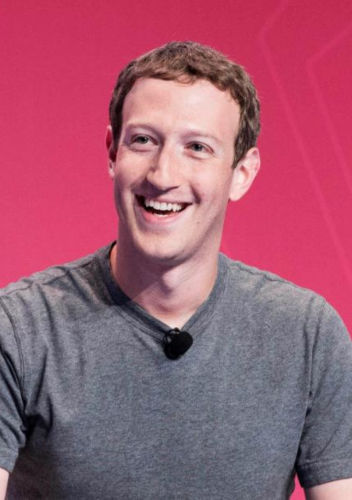 Mark Zuckerberg is married to Priscilla Chan, a pediatrician and philanthropist. They met at a fraternity party during Zuckerberg's sophomore year at Harvard and were married in 2012. The couple has two daughters, Maxima and August.
Zuckerberg and Chan are known for their philanthropic endeavors. In 2015, they pledged to give away 99% of their Facebook shares during their lifetime through the Chan Zuckerberg Initiative (CZI), which aims to "advance human potential and promote equality."
Zuckerberg is also known for his minimalist lifestyle. Despite his massive wealth, he is often seen wearing the same grey t-shirt and jeans and drives a relatively modest car compared to other billionaires.
Controversies and Lawsuits
Zuckerberg and Facebook have faced several controversies and lawsuits over the years. The most prominent being the Cambridge Analytica scandal in 2018, which saw the data of millions of Facebook users improperly harvested for political advertising. Other controversies include accusations of enabling fake news, privacy concerns, and anti-competitive practices. These incidents have often resulted in substantial financial penalties and have significantly impacted Facebook's public image.
Depictions in Media
Zuckerberg's rise as a tech entrepreneur was dramatized in the 2010 film "The Social Network," where he was portrayed by actor Jesse Eisenberg. While the film was critically acclaimed, Zuckerberg criticized it for its many inaccuracies. He has also been the subject of numerous documentaries and has made appearances on TV shows as himself, demonstrating the impact he and Facebook have had on modern culture.
How has Mark Zuckerberg Spent His Wealth?
Despite his enormous wealth, Zuckerberg is not known for extravagant spending. His lifestyle is relatively modest, but he has made substantial investments in real estate. He owns several properties in California, Hawaii, and elsewhere, estimated to be worth hundreds of millions of dollars.
His primary expenditure, however, has been philanthropy. In 2015, Zuckerberg and his wife, Priscilla Chan, pledged to donate 99% of their Facebook shares, worth billions of dollars, to the Chan Zuckerberg Initiative during their lifetime. The initiative focuses on various areas, including science, education, justice, and opportunity.
Zuckerberg also invested significantly in his vision of the metaverse, funding research and development in virtual and augmented reality technologies. Moreover, he has made substantial investments into AI research and other technologies central to the future expansion and diversification of Meta.
Beyond tech and philanthropy, Zuckerberg has a known interest in personal security. Reports suggest he spends millions annually on security measures for himself and his family, including security personnel, equipment, and measures for his various residences.
Did Mark Zuckerberg have any crypto investments? and if so, what are they?
As of 2023, there is no public information that Mark Zuckerberg has made personal investments in cryptocurrency. However, Facebook, under his leadership, made a significant foray into the crypto space with the introduction of Diem (formerly known as Libra). Diem is a blockchain-based payment system project, reflecting Zuckerberg's interest in blockchain technology and its potential applications, even if he has not publicly disclosed any personal cryptocurrency holdings.
5 Frequently Asked Questions (FAQs)
How did Mark Zuckerberg become so rich?
Zuckerberg's wealth primarily originates from his stake in Meta Platforms Inc. (formerly Facebook), which he co-founded in 2004. As the company expanded and went public in 2012, the value of his shares soared. Despite selling some shares for philanthropic efforts, Zuckerberg retains significant ownership, ensuring his place among the wealthiest people in the world.
What is the Chan Zuckerberg Initiative?
The Chan Zuckerberg Initiative is a philanthropic organization founded by Mark Zuckerberg and his wife, Priscilla Chan, in 2015. They pledged to donate 99% of their Facebook shares to this initiative over their lifetimes. The organization focuses on science, education, justice, and opportunity.
What is Zuckerberg's vision for the metaverse?
Zuckerberg envisions the metaverse as a fully immersive virtual reality space where individuals can work, play, and interact in a computer-generated environment. This concept has become a major focus for Meta Platforms, with Zuckerberg committing substantial resources to its development. He believes the metaverse will become the next significant computing platform.
What is Zuckerberg's involvement in cryptocurrency?
While Zuckerberg has not publicly disclosed personal cryptocurrency investments, his company Meta Platforms initiated the Diem project, a blockchain-based payment system. The project reflects Zuckerberg's recognition of blockchain's potential, illustrating his interest in integrating emerging technologies into his business endeavors.
How does Mark Zuckerberg spend his money?
Zuckerberg spends his wealth primarily on philanthropy, technology investments, and personal security. He and his wife, Priscilla Chan, have pledged to give away 99% of their Facebook shares through their philanthropic organization, the Chan Zuckerberg Initiative. He also invests heavily in real estate, AI research, and the development of the metaverse.
Summary
Mark Zuckerberg, co-founder and CEO of Meta Platforms Inc. (formerly Facebook), has an estimated net worth of $120 billion in 2023. His wealth primarily originates from his holdings in Meta. Known for his minimalist lifestyle, he devotes much of his wealth to philanthropy through the Chan Zuckerberg Initiative and investments in futuristic technologies. While his personal investments in cryptocurrency remain undisclosed, he guided Meta to initiate the Diem project, a cryptocurrency endeavor. Despite controversies, Zuckerberg's career is a testament to his vision and relentless pursuit of connecting people digitally, and now, virtually through his concept of the metaverse.
Risk Disclaimer
CryptoGlobally aims to offer impartial and trustworthy data on cryptocurrency, finance, trading, and shares. Yet, we can't give financial guidance and encourage individuals to conduct their own studies and thorough checks.