What is Mark Wahlberg's Net Worth in 2023?
In 2023, Mark Wahlberg's net worth is estimated to be around $350 million, making him one of the wealthiest actors in Hollywood. This fortune is the result of a prolific acting career spanning three decades, as well as savvy business ventures, including co-owning the Wahlburgers chain with his brothers. He has been a leading actor in several box office hits and has also made a mark as a producer, both adding significant amounts to his net worth.
Early Life and Family
Mark Robert Michael Wahlberg was born on June 5, 1971, in Boston, Massachusetts, the youngest of nine children of Alma Elaine and Donald E. Wahlberg Sr. His family was of Irish, Swedish, and French Canadian descent. Raised in a working-class Roman Catholic household, Wahlberg faced economic hardships during his early years. His parents divorced when he was eleven, leading him to divide his time between them. His older brother Donnie Wahlberg would also find fame as a member of the boy band New Kids on the Block.
Legal Issues of Mark Wahlberg
Mark Wahlberg has had a turbulent past involving legal issues. In his youth, he was involved in drugs, violence, and had several run-ins with the Boston Police Department. The most notable incident occurred when he was 16, he was convicted of assault against two Vietnamese men in separate incidents on the same day. Wahlberg was sentenced to two years in prison but served 45 days. This conviction has followed him throughout his career, and he has since expressed remorse for his actions.
Career of Mark Wahlberg
Mark Wahlberg's career began with music before transitioning into acting. Initially known as Marky Mark, he gained fame as the frontman for Marky Mark and the Funky Bunch. His transition into acting was cemented with his role in 'Boogie Nights' (1997). He has since starred in several high-grossing films like 'The Departed' (2006), 'Ted' (2012), and 'Transformers: Age of Extinction' (2014). Wahlberg also ventured into producing, with credits including HBO's 'Entourage' and 'Boardwalk Empire.' His diverse career and dedication have cemented his status as a leading man in Hollywood.
Personal Life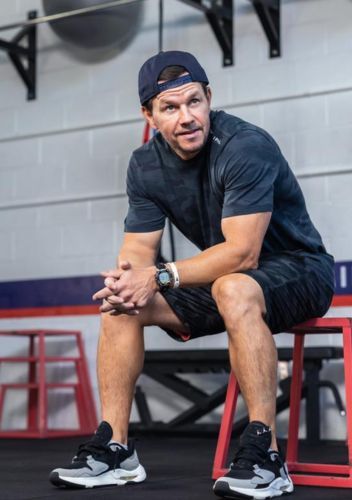 Mark Wahlberg is married to model Rhea Durham since 2009. They have four children together. Despite his hectic schedule, Wahlberg is known for his disciplined lifestyle, which includes a rigorous workout routine and devout Catholic faith. He is also involved in various charitable endeavors, particularly those aimed at helping at-risk youth, a cause close to his heart due to his own troubled adolescence.
Filmography
With over 60 acting credits to his name, Wahlberg's filmography is extensive. Some of his most notable films include 'The Fighter' (2010), for which he received an Academy Award nomination for Best Picture, 'Lone Survivor' (2013), and 'Deepwater Horizon' (2016). His versatility as an actor is evidenced in his ability to successfully take on both action roles and more dramatic parts.
How has Mark Wahlberg Spent his Wealth?
Wahlberg's wealth has been invested in various avenues. Apart from real estate and his stake in the Wahlburgers restaurant chain, he is also a co-owner of the cricket team Barbados Tridents. His other investments include StockX, a sneaker reselling company, and F45, a global fitness franchise. Wahlberg is also known for his philanthropy, having established the Mark Wahlberg Youth Foundation in 2001. The foundation's primary aim is to improve the quality of life for inner-city youth.
Did Mark Wahlberg have any Crypto Investments?
As of 2023, there is no public record of Mark Wahlberg holding or investing in any cryptocurrency. However, it should be noted that Wahlberg, as a successful businessperson, may maintain a diversified investment portfolio that is not publicly disclosed.
Frequently Asked Questions (FAQs)
How did Mark Wahlberg start his career?
Wahlberg's career began in music, performing as the rapper Marky Mark with the group the Funky Bunch. His transition into acting came in the mid-1990s with roles in films like 'Renaissance Man' and 'Boogie Nights'.
Has Mark Wahlberg won any awards?
Wahlberg has received several awards and nominations throughout his career, including an Academy Award nomination for Best Supporting Actor for 'The Departed' and a nomination for Best Picture for 'The Fighter'.
Is Mark Wahlberg involved in any charities?
Yes, Wahlberg established the Mark Wahlberg Youth Foundation in 2001. The foundation aims to assist at-risk youth and has donated millions to various youth-serving organizations.
What businesses does Mark Wahlberg own?
Wahlberg co-owns the Wahlburgers restaurant chain with his brothers. He also has stakes in StockX, F45 fitness franchise, and the cricket team Barbados Tridents.
Is Mark Wahlberg married?
Yes, Wahlberg has been married to model Rhea Durham since 2009. They have four children together.
Summary
Mark Wahlberg is a multi-talented personality in the entertainment industry, with success in music, acting, and business ventures. Despite a troubled past, he has worked his way to an estimated net worth of $350 million as of 2023. His life's journey is a testament to the power of resilience and the ability to reinvent oneself. Notably, Wahlberg has used his wealth for philanthropy, particularly for at-risk youth, reflecting a commitment to giving back to the community. Despite no public records indicating Wahlberg's crypto investments, his varied portfolio suggests an aptitude for business.
Risk Disclaimer
CryptoGlobally aims to offer impartial and trustworthy data on cryptocurrency, finance, trading, and shares. Yet, we can't give financial guidance and encourage individuals to conduct their own studies and thorough checks.