What is Conor McGregor's Net Worth in 2023?
As of 2023, Conor McGregor, the globally recognized mixed martial arts (MMA) superstar, boasts a net worth of approximately $220 million, a sum that represents the culmination of an illustrious career in combat sports and several successful business ventures. From humble beginnings in Ireland, McGregor has skyrocketed to global fame, transcending the confines of the Ultimate Fighting Championship (UFC) to become an influential figure in popular culture and an accomplished entrepreneur.
Professional mixed martial arts career of Conor McGregor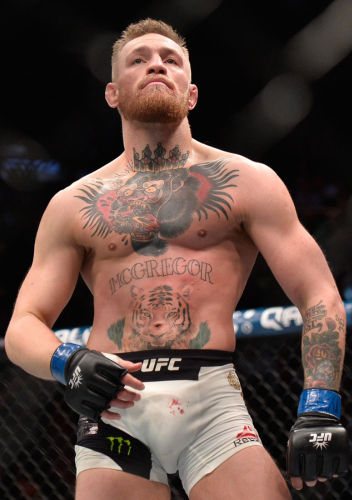 Conor McGregor began his professional MMA career in 2008 in Ireland. Known for his powerful strikes and charismatic persona, McGregor quickly gained attention in the combat sports world. His UFC debut in 2013 marked the beginning of a meteoric rise within the organization. He amassed 21 wins out of 26 matches, 18 by knockout.
One of his most notable fights was in 2016 when he became the first fighter in UFC history to hold two titles simultaneously, in the featherweight and lightweight divisions. His intense rivalries and significant pay-per-view draws resulted in record-breaking revenue for the UFC. McGregor's largest single-event payout in his MMA career was reportedly $3 million (not including pay-per-view bonuses) for UFC 229.
Professional boxing career Conor McGregor
In August 2017, McGregor transitioned into professional boxing, squaring off against Floyd Mayweather Jr. in one of the most publicized sporting events in history. Despite losing the match, McGregor's boxing debut proved financially lucrative; he reportedly earned over $100 million from the bout once pay-per-view shares and sponsorship deals were included.
Business ventures of Conor McGregor
McGregor's business acumen extends beyond the fighting ring. In 2018, he launched Proper No. Twelve Irish Whiskey, which rapidly gained popularity. The brand's success has been significant, with millions of bottles sold worldwide. McGregor has also launched an athleisure line, August McGregor, in collaboration with David August, a custom men's clothier. Furthermore, he owns McGregor Sports and Entertainment, a management company.
Controversies
McGregor's career hasn't been without controversies. He has faced several legal issues, including charges for assault and disorderly conduct. His trash talk often stirs public discussion, sometimes crossing into personal attacks and ethnic insensitivity. He's also been criticized for his flamboyant lifestyle and ostentatious display of wealth.
Championships and accomplishments
In his MMA career, McGregor has bagged several titles. He is a former Cage Warriors Featherweight and Lightweight Champion. In UFC, he made history as the first fighter to hold two championship titles simultaneously. Despite a single professional boxing match, he holds the second-largest pay-per-view event in history.
How has Conor McGregor spent his wealth?
Known for his flamboyant lifestyle, McGregor enjoys spending his wealth. He owns a luxury home in Ireland and several properties in the United States. He has a passion for custom suits, often from designer David August, and has a collection of high-end luxury watches and cars, including a Lamborghini yacht worth millions.
McGregor also invests in his training and recovery, sparing no expense in maintaining his physical condition. Furthermore, he's known for his philanthropy, often donating to causes close to his heart, like children's hospitals in Ireland.
Did Conor McGregor have any crypto investments?
Yes, McGregor has shown interest in cryptocurrency. He has endorsed the crypto wallet "Crypto.com" and has been linked with the Ethereum-based Dapper Labs' NFTs.
5 Frequently Asked Questions (FAQs)
How did Conor McGregor earn his wealth?
McGregor's wealth primarily originates from his career in the UFC and professional boxing, with a significant portion from pay-per-view shares. Additional earnings come from sponsorship deals and business ventures like his whiskey brand, Proper No. Twelve, and his clothing line, August McGregor.
How much did McGregor earn from his fight with Floyd Mayweather?
It's reported that McGregor earned over $100 million from his bout with Floyd Mayweather. This includes his share of the pay-per-view revenue, sponsorship deals, and his guaranteed purse for the fight.
What business ventures does McGregor have?
McGregor owns Proper No. Twelve Irish Whiskey and August McGregor, a clothing line. He also owns McGregor Sports and Entertainment, a management company, and has had several sponsorships and endorsements.
What controversies has McGregor been involved in?
McGregor has faced numerous controversies, including legal issues related to assault and disorderly conduct. His provocative trash talk has often stirred controversy, and he's been criticized for his lavish lifestyle.
Has McGregor invested in cryptocurrencies?
Yes, McGregor has shown interest in cryptocurrencies. He has endorsed the crypto wallet "Crypto.com" and has been linked with investments in NFTs through the Ethereum-based platform Dapper Labs.
Summary
Conor McGregor, known for his fighting prowess and charismatic personality, has carved an impressive career in the MMA and boxing world. His various championships and high-profile fights, combined with his successful business ventures and endorsements, have led to a significant net worth of approximately $220 million in 2023. His flamboyant lifestyle and various controversies have kept him in the public eye, even outside of his sporting accomplishments. Despite his ostentatious display of wealth, McGregor also uses his fortune for philanthropy and investments, including in the burgeoning field of cryptocurrency.
Risk Disclaimer
CryptoGlobally aims to offer impartial and trustworthy data on cryptocurrency, finance, trading, and shares. Yet, we can't give financial guidance and encourage individuals to conduct their own studies and thorough checks.